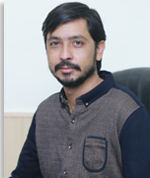 Mr. Zaeem Ur Rehman has more than 6 years of research experience in the field of Metallurgy and Materials Engineering. He earned his B.Sc. Metallurgy & Materials Engineering degree from Institute of Advanced Materials, Bahauddin Zakariya University, Multan in 2013. He has about three years industrial experience in surgical and inspection industry. He earned M.Sc. Metallurgical & Materials Engineering degree, in 2016.
He joined research group of Prof. Dr. Mohsin Ali Raza (Director) at Institute of Metallurgy & Materials Engineering in 2015 as a Research Assistant. He has key participation in various research projects on carbon nanomaterials, graphene, polymer composites, ceramics materials and energy storage materials. Afterwards, in March 2020 he joined Institute of Metallurgy & Materials Engineering as a Lab Engineer. He is currently pursuing his P.hD. in Metallurgy & Materials Engineering from same Institute. His area of expertise are synthesis and characterization of 2D nanomaterials, electrochemical testing, energy storage devices and mechanical testing. He has complete command in operating state of the art characterization techniques i.e., scanning electron microscope, X-ray diffractometer, atomic force microscope and universal testing machine.
He also authored about 13 research articles, which were published in peer-reviewed impact factor journals, with cumulative impact factor of about 25 and presented papers in more than 10 international conferences. He is currently involved in various lab courses of B.Sc. Engineering and final year research projects.